Close Up Magician Edinburgh
Are you looking for a Close Up Magician to entertain your guests? Edinburgh Magician Elliott Henderson is a professional
Close Up Magician
who performs entertaining, interactive close-up magic that happens right before your eyes (
without any camera tricks
).
With a relaxed, friendly performing style, Elliott is in demand to perform at many events in Edinburgh and all around Scotland. From Weddings to Private Parties, Birthdays to Corporate Events, Elliotts' magical entertainment gives your guests a magical experience that will leave them enthralled and enchanted.
Press Play to watch a clip of Elliott in action performing magic!
"Thank you very much for performing on Saturday. The magic was great and everyone really enjoyed it given the feedback I received!" H. Davidson - Corporate Event
Elliott specialises in table and strolling magic to help create a buzz among your guests and can entertain your guests as they arrive at your event or as they sit at their tables.
The visual close up magic that he performs is at an intimate setting, normally only a foot away from your guests, and his style of magic is especially entertaining as the magic's happening live - much better than watching it on TV!
Watch Elliott Perform Close up Card Magic!
Close Up Edinburgh Magician
Based in Edinburgh, Elliott can tailor his performance to best suit your own individual needs, ensuring your guests experience an evening they will remember. With an easy going charm and a unique blend of magic, your guests won't know what to believe! If you want a modern, entertaining act to amaze your guests contact Elliott today for further information on how he can help.
Contact Elliott today to discuss how to make your next event Amazingly Entertaining, Successful and Fun... Guaranteed!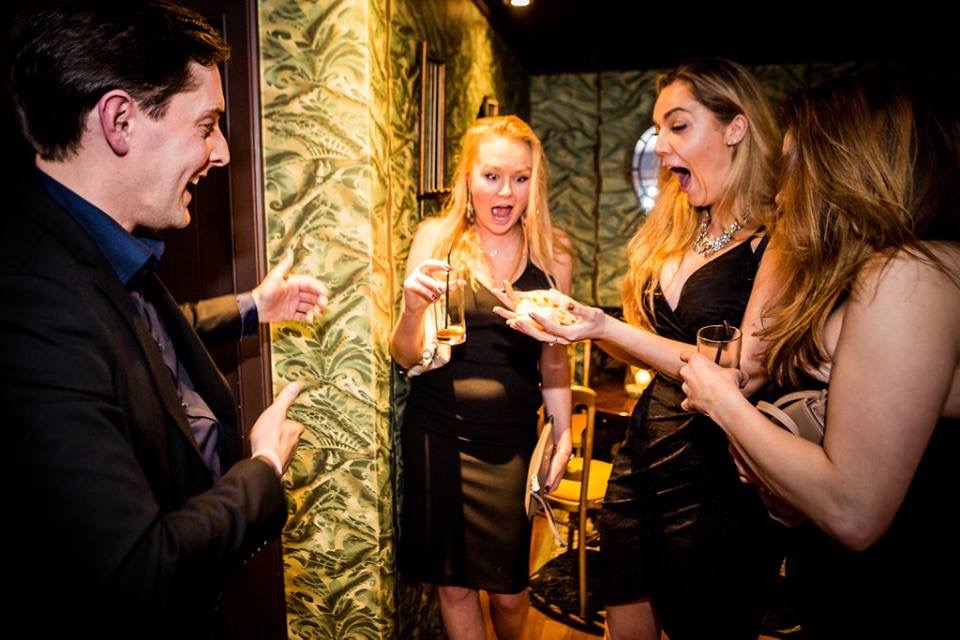 "Thank you so so much for yesterday. You were absolutely fantastic and we had such a good time. Had so many compliments from people about how brilliant you were!" B. Mackenzie - Wedding
When you hire Elliott to perform magic at your event you will receive the perfect combination of interactive entertainment, laughter and amazement. Elliott has been a professional closeup magician for the last 7+ years and his unique blend of magic makes him an ideal choice for those seeking unique entertainment to make your event stand out from the crowd.
"Thank you so much for coming and entertaining our guests on Saturday night. Without exception you were a HUGE HIT!!!! People were talking about you long after you had gone!! I hope you enjoyed yourself too. We will certainly recommend you." G. Manchip - Private Party
As an Edinburgh based Magician, Elliott can entertain your guests in a variety of different performance styles, including strolling magic where he entertain guests as they are standing in groups or table magic where your guests are seated perhaps after having finished dinner and he will perform a small table side show to entertain them into the evening.
If you are getting married or having a private party and are looking for some alternate entertainment ideas, why not consider a party magician? Elliott commonly performs for around 2 hours to upwards of 150 guests so that he is able to make sure everyone gets to see some magic.
Edinburgh Magician for Private Events
Strolling magic
is the perfect ice breaker to captivate your evening reception or enhance to your next business event. During the evening reception, Elliott will mingle with all your guests and perform close up magic right in front of their eyes and in your guests hands.
A sure fire way to make your event unforgettable, Elliott will keep your guests amazed and laughing the entire time.
Elliott has been into magic now for over 20 years, and as a child his interest in magic was sparked by a simple card trick he learned on the back of a cereal box. Now magic has became a full-fledged obsession and he has spent countless hours practising and honing his skills which he has performed at various parties around Scotland, so you know you will be in good hands.
"I have only one job... and that is to make it a magical day for everyone"
Why Should You Hire Elliott?
Elliott performs a wide range of different effects that is suitable for all ages using cards, money and mind reading, and everything in his repertoire has been thoroughly honed over hundreds of performances to ensure your guests see strong magic. Elliott is also a certified hypnotist and more information is available at
Hypnotherapy in Dunfermline
.
Hire Elliott for your next event and you just might witness:
Signed Cards shuffled and lost in a deck, only to be found in amazing ways
Elliott will read your mind, revealing the word you are merely thinking of
Coins appear, vanish, multiply and grow up to 20 times bigger
See Money being magically printed onto blank white paper
See Elliotts' version of a classic handcuffs escape (note: no handcuffs needed!)
You think of a card.. Elliott will tell you what it is, but not the way you think!
Up to 15 people select cards and Elliott finds them all in unique and amazing ways
See the infamous 3 Card Monte hustle right before your eyes
Money changes in your own hand.. a perfect demonstration of misdirection
Your £5 note magically changes into a £50 (one of his most requested effects.. you can guess why!)
Gambling effects that show why you should never play cards with a stranger
... And a few other magical effects which we won't ruin the surprise for you
Get a FREE No-Obligation Quote for Your Event
Contact Elliott today to discuss how to make your next event amazingly entertaining, successful and fun... Guaranteed!